Colorado Springs Gem and Mineral Society Show
We returned to the Colorado Springs Gem and Mineral Show the first weekend of June after an absence of several years. Donna remained in Salida recovering from her second knee replacement surgery while I participated in the show alone. I do want to thank the club members and other dealers who were most helpful during the show when it came time to use the facilities or acquire lunch. We have signed a contract for the 2018 show which we have been told will move to a new location next June.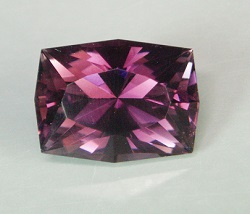 Natural purple scapolite from Tanzania
The show was well attended and it was great to see many old friends and customers who we had not seen in years. Business was slow the first two days but picked up nicely on Sunday. Once again our shift to feature more of the gems that John has cut has proved to be our strong sales area as the bulk of our sales were gems that John cut.
We did take along a little of the extra facet rough gems, mostly for display but found that several of the people who stopped by the booth were interest in acquiring some and we actually sold quite a bit of what we had. Of course selling rough also included giving advice and pointer on cutting which John enjoys emensely!
Donna's Recovery
Many of you have inquired about Donna's progress in recovering from having both knees replaced this year. July 4th marked the 14th week since her first knee was replaced and the 6th week since her second one. Recovery from both operations has been excellent although she will not tell you as such. We are on track to take our annual Montana trip which requires some hiking. On July 4th she even got up and danced to the tunes of the Beatles as they were played at the July 4th celebration here in Salida. That in itself says a lot about her recovery.
Montana Digging Still On the Calender for August (See our Index page for details)
We are still planning on our annual trip to Montana in August. Many of you have surprised us over the years by joining us in our trips to Crystal Park and Gem Mountain Sapphire Mine. This year we may once again plan on a trip to Idaho and the star garnet location on Emerald Creek. Let us know if you would like to coordinate your schedule with ours.
We have heard that major changes are occurrinang at the Gem Mountain Gem Mine. If you are planning on a visit we encourage you to check out their website for scheduling and the changes happening there.
More "Memoirs of a Gemaholic"
Another installment of John's "Memoirs of a Gemaholic" is included in this issue of our newsletter. We have interspersed it in our "Gems Cut By Us" section in order for it to receive the attention it deserves. The first installment will still be available in the "Current News" section of our website. This month's story deals with the infamous missing parcel of rough and how it became lost and the circumstances of it being found. You do not want to miss this story.
Memoirs of a Gemaholic
Over the years John has received numerous request to publish many of the stories of his gem and mineral experiences that have occurred during his lifetime. We are please to announce that beginning with this newsletter we will be including some of these stories each time we update our website. We will start with his earliest recollections of being interested in gems and minerals and then include various others as time progresses. We hope you will look for these stories online but if you do not have access and would like a copy let us know so we can mail one to you.
www.djraregems.com/Memoirs.html
A Few Salida Fall Pictures
We hope you will enjoy the following pictures taken by Donna near our home in Salida as much as we enjoyed experiencing the moments.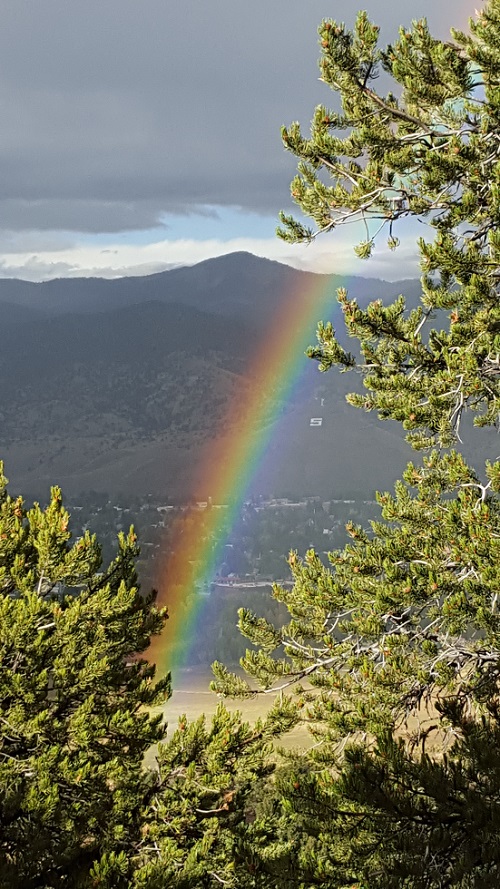 A beautiful rainbow over Salida that ends on John's pot of rough gems. Taken from the deck of our home!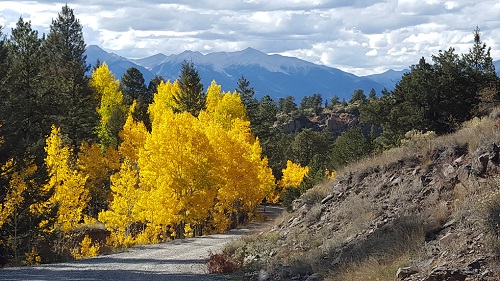 Golden aspen leaves above Salida. Mt Antero is the pointed peak in the background.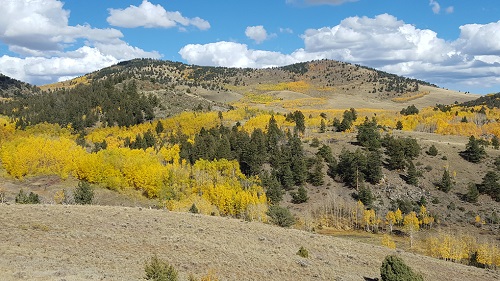 The hills above Salida full of golden aspen trees. (The snow is not far in the future!)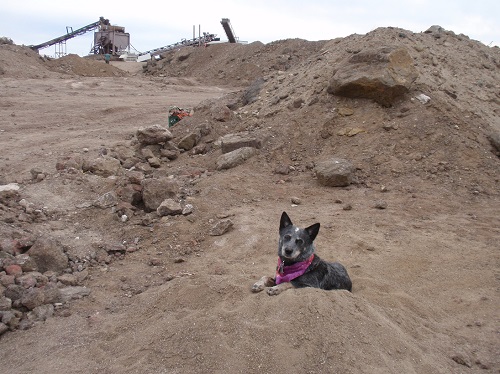 Apache at the Dust Devil Sunstone Mine, September 2015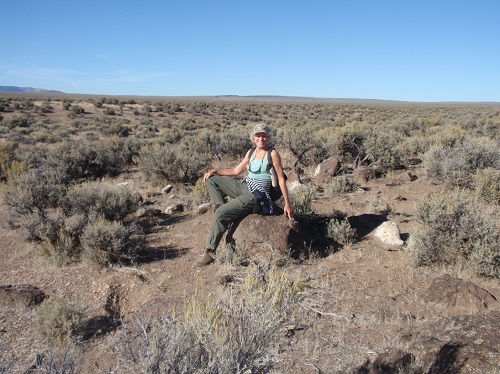 Donna protecting us from rattlesnakes at the Dust Devil Mine (Someone has to do it!)
Remember, whenever possible we always invite our friends to join us on these trips. Nothing organized, nothing charged by us, just a lot of fun enjoying our passion for gems.
4 Peaks Amethyst Mine Tour
Six months ago, Rick Scott, owner of Scott Manufacturing that makes the Raytech Shaw faceting machine that John uses, brought it to our attention that twice a year the 4 Peaks Amethyst Mine near Fountain Hills, Arizona operates tours. He indicated that this Fall's tour would occur on October 10th and that he had signed up for it. After some thought John also signed up for the tour which included a helicopter ride to and from the mine at a cost of $400/person.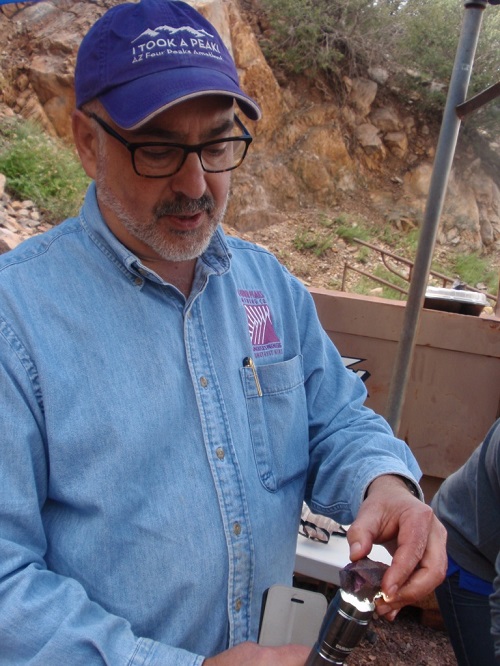 Kurt Cavano, current mine owner of the 4 Peaks Amethyst Mine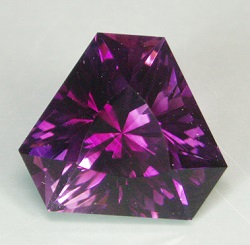 An exceptional 4 Peaks Arizona Amethyst listed in the November 2014 "Cut By Us" section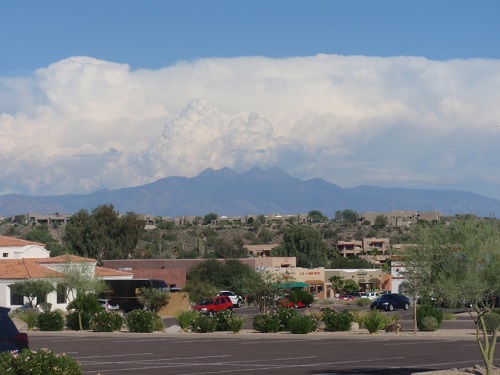 4 Peaks, Arizona as viewed from Sami's Fine Jewlery, Fountain Hills, Arizona (The mine is on the fourth peak on the right)
The mine is currently owned by Kurt Cavano, who has owned the mine for 16 years and has operated tours during the entire time he has owned it. We met Kurt in Tucson soon after he purchased the mine and cut a gem for him back then which he told us he still possesses.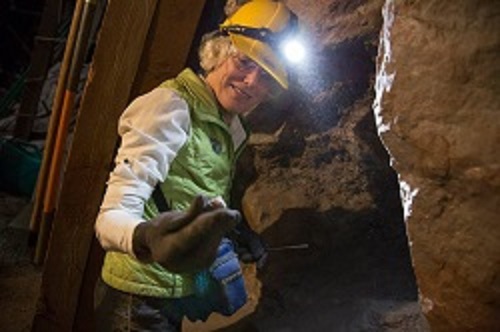 Donna in the 4 Peaks Amethyst Mine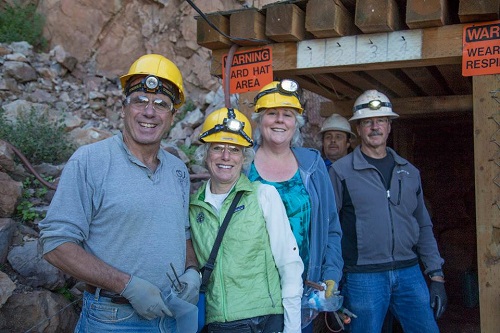 Our group touring the 4 Peaks Amethyst Mine on October 10th (John, Donna, Trinity, and Rick Scott)
The tours are organized by Sami's Fine Jewelry of Fountain Hills, Arizona. Once we signed up they provided all the information and details as to our trip. We were scheduled to depart at 8:30 AM on the morning of October 10th from Sami's. We had been under the impression that the tour was full and since Donna had not signed up for the tour she had planned to remain behind. Upon arriving at Sami's we were told that there was one space remaining and Donna quickly prepared to fill it. The people at Sami's graciously offered to watch Apache while we were to be away for approximately 1 1/2 hours.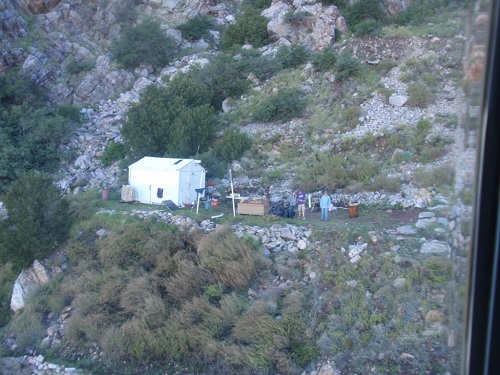 The base camp viewed from the incoming helicopter, 4 Peaks Amethyst Mine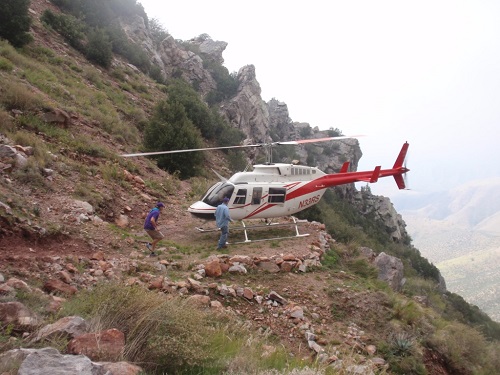 Helicopter landing pad at the 4 Peaks Amethyst Mine
The mine entrance, 4 Peaks Amethyst Mine
We drove for about 1/2 hours to the site where the helicopter waited. Upon boarding it was about a ten minute ride over incredible scenery to the mine which is located on the southern most peak of the 4 Peaks. Our experienced pilot set us down on a perch at the end of the mine.
Kurt Cavano was there to greet us and take us on a very brief tour before allowing us to collect a little amethyst. The mine is a tunnel that enters an ancient quartzite. The amethyst is found within a pipe like structure that has been worked for hundreds of years. It is reported that the Spanards found the mine and that some of the amethysts found in the Spanish Crown Jewels are accredited as to having come from the $ Peaks Mine.
When it was time to leave, Kurt, as had been indicated early in the trip, inspected what we found and confiscated several exceptional pieces of rough that John had found. He did leave him with quite a bit of rough that with a little work will produce some fine gems.
We prepared to leave on the incoming helicopter which was to bring the next group to the mine for a tour, however, a cloud bank had rolled in and we ended up being stuck at the mine for an additonal 1 1/2 hours during which we scoured the area around the mine for additional specimens and rough.
Finally we were able to leave the mine and return on the helicopter to the landing area where an employee of Sami's was to meet us with a very anxious Apache.
Overall it was a very enlightening and exciting trip and we are planning to return next year to experience it once again.
We would like to thank the mine owner, Kurt Cavano, for providing the opportunity to visit this classic North American gem location. We would also like to thank the staff at Sami's Fine Jewelry for their hospitality and the attention they gave Apache while we were touring the mine. If you ever are in Fountain Hills, Arizona, look them up and see the incredible jewelry they offer that contains the finest 4 Peaks amethyst that comes out of the mine, as well as jewelry set with Arizona peridot and Arizona chrome pyrope (ant hill) garnet along with jewelry of exceptional gems from around the world.
If you would like to take a tour of the 4 Peaks Amethyst Mine, the information for next year's tours will be available on their website,
www.samifinejewelry.com
We are hoping to return next year in October or November when the tour is offered so if you would like to join us for this adventure let us know.
We included a stop at the Petrified Forest National Monument on our way home from 4 Peaks and have included a few picutres from that visit here.
Assorted petrified wood logs at the Crystal Forest, Petrified Forest National Monument in Arizona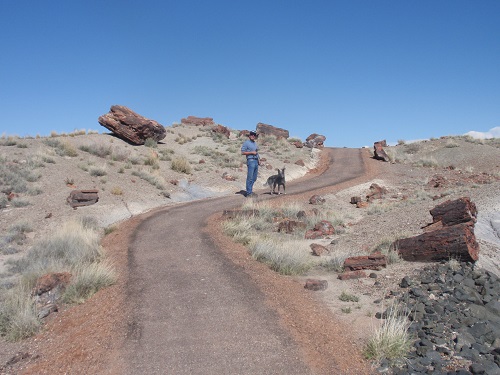 John and Apache on trail at Petrified Forest National Monument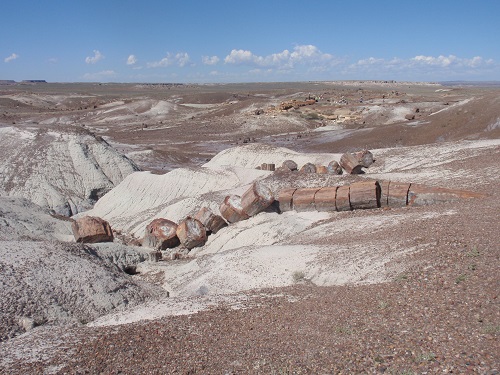 One very long tree section at the Petrified Forest National Monument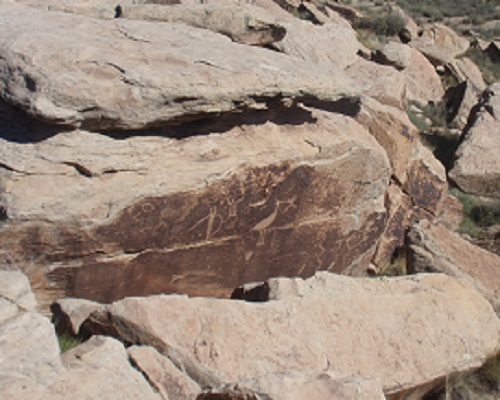 Petroglyphs at the Petrified Forest National Monument
Snow in the mountains above our office in Salida, Colorado upon our return on October 12th. Mt Antero, Colorado is the pointed peak between the street lamp and the post office sign.
North American Gemstone Page
We are currently considering adding a page to our website that features gemstones that were mined in North America. This page would include gems that were found in the United States, Canada, and Mexico. Many of the gems would be ones that we both collected the rough and cut the gems but it would not be exclusively these. Gems that were cut overseas from rough we collected as well as gems that were cut from rough from other sources would be included on the page.
North American gems do not receive the attention as those originating from other locations throughout the world as often these deposits are small and produce very little rough. We already list a large number of North American gems on our website but by creating a separate section to list them we feel will give them the added attention they deserve.
If we do add this page to our website we hope to have it up and running by the first of the year.
Frequently Asked Questions (FAQ's)
We are often asked questions concerning our business and its history in emails, at shows, and over the telephone. We will attempt to address many of these questions here and in the future and will keep them posted on our website. If you have a question you would like us to address bring it to our attention and we will attempt to answer it for all to see and enjoy.
When did you first become interested in gems and minerals?
One of my first recollections in life was playing with my older sisters in a vacant lot behind our home in West Reading, Pennsylvania. This lot used to be a limestone quarry. When I was about three years old I found a piece of limestone with transparent calcite crystals on it. It seems that from then on I was always drawn to transparent, glassy minerals which also in many cases could be cut into gems.
See 1st Installment of "Memoirs of a Gemaholic" on this page
Who taught John to facet gems?
John decided to start cutting gems after being in the business for several years. A faceting machine was offered to him for sale back in September of 1989 and it was just a matter of time before he sat down and started cutting.
As to who taught him the best answer would be no one. John read the instruction books and started cutting on his own. The first gem he cut that is pictured on our website (see below) is a good indication that he started from scratch.
This does not mean that he did not have help. Having been in the business for several years prior to beginning cutting he know several people in the business who were cutters who he could approach with questions.
Jerry Hess, Bob Spomer, Mike Gray, Buzz Gray, Mark Krivanek, Nanct Attaway, and Art Grant have all been of assistance during the past 22 years of cutting.
During one period of time polishing quartz gems presented a problem and as a result John shied away from cutting gems like amethyst, citrine, and smoky quartz. When he mentioned this to Mike Gray in Tucson one year Mike suggested a new technique and even sent a sample polishing pad that corrected the problem and is still used today.
Polishing a large topaz was causing problems just last year. John contacted Bob Spomer who recommended a slight change in the procedure he was using that corrected the problem quickly.
Art Grant was particularly helpful during the early days of John's faceting when he was attempting to cut softer rare gems such as calcite, cerussite, and rhodochrosite.
Similarly, Jerry Hess, who has since passed from this earth, gave advice on cutting softer gems.
Mark Krivanek, who was a partner in business with D&J Rare Gems during most of the 1990's and who is also an accomplished gem cutting in his own right gave advice during our association with him and has remained helpful through all these years.
We have always been very appreciative of the fact that we had these other gem cutters to contact when questions arose and as a result have extended similar advice whenever possible.
Gem cutting is an activity whether it be a hobby or a profession that offers one of the most rewarding experiences one can have. Imagine the sense of accomplishment one must experience after seeing an unattractive piece of rough gem transformed into a sparkling, beautiful gemstone as the result of one's labor. Each time John cuts a gem there is the thrill of anticipation of the results once the gems has been cleaned and its beauty exposed for the first time.
What was the first gem you sold?
The first gem I sold occurred when I was finishing up my gemologist's certificate at the Gemological Institute of America. I was attending the labs each day in order to complete my training sooner. Back then when you had to identify gems you were sent a set which you identified and sent your finding back to GIA. An instructor would grade your results and send them back. This could take weeks. By attending the lab it could be done in hours.
While at the lab another student was having a problem with an identification. I looked at the gem and told him it was a kornerupine. He asked how I knew and I told him I had one in my reference collection. He asked if I could get him one which I could. I sold my collection gem to him at twice what I paid for it and subsequently sold about six other gems during the remaining days I spent at the lab.
When was D&J Rare Gems founded?
We founded D&J Rare Gems soon after completing my gemologist's certificate in July of 1985. Our first advertisement was a classified ad in Lapidary Journal. A friend continued to assist us while we were living in Malawi, Africa from July 1986 until September 1988. Upon returning home from Africa we made the decision to develop the business into a full time venture.
On a side note, it was not until October of 2005 that I completed the requirements for the Graduate Gemologist's Certificate. Today GIA limits its students to five years from the time they initiate their studies until they can complete them for a G.G. certificate.
How and when did you get started cutting gems?
I was always fascinated with cut gems and wanted to see how they were cut. When we visited Sri Lanka during 1988 we visited a cutting factory and watched while gems were cut. This stuck with me and when I was offered a Raytech Shaw faceting machine in September 1989 I jumped at the opportunity to purchase it. I had a lot of gem rough that I acquired while in Malawi and I also had some that I had collected here in Colorado so I had plenty of material on which to practice.
What was the first gem you ever faceted?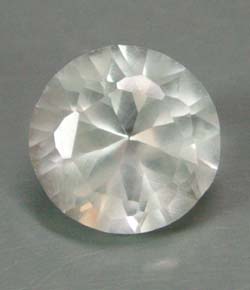 The first gem John faceted, October 1989, a 3.24 carat quartz from Missouri Ridge, Colorado
The first gem I ever faceted was a colorless quartz that I had collected on Missouri Ridge in Chaffee County, Colorado. I cut a round brilliant gem that turned out pretty bad as I did not have anyone to instruct me as to what I was doing. All I did was read the instruction manual that accompanied the faceting machine and did my best. My second gem was also a round brilliant colorless quartz from Missouri Ridge that turned out much better. My third gem was a round brilliant smoky quartz from Mt Antero, Colorado that I ended up selling for $18.00. Since then I have cut thousands of gems and look forward to the opportunity to cut one whenever I can.
Subsequently I did receive lots of instruction and advice from many of the gem cutters here in Colorado and around the country. I've always appreciated their assistance and gladly provide similar advice to others when they have a question or a problem that they can't solve.
How much of the rough gems that you cut do you collect yourself?
Most gem cutters would love to say they've collected all that they cut but that would be extremely limiting in what they can offer.
I would say that less than 5% of the gems that I cut and offer in our newsletter or on our website are gems where I collected the rough. I do enjoy going in search of gem rough and make annual trips to collecting areas here in Colorado, Oregon, Montana, and other areas just to search for rough and rarely do I not return without anything. The biggest problem is finding something of substantial value but then if it was easy more people would be doing it and the value would not be there. A lot of the value in the gems that I cut where I have found the rough is in the time and skill it takes to cut one. We open these field trips to our friends and customers and find that the experience if often far more valuable than anything that any of us finds.
When did you live in Malawi and what were you doing there?
We have over the years offered gems that came from Malawi and always mention that we spent two years living there.
In 1986 we were hired by the Presbyterian Church USA to be teachers at a school in Embangweni, Malawi. John taught mathematics, algebra, geometry, and trigonometry while Donna taught biology and English as a second language. Our students we secondary level, grades 9 through 12 here in the US and ranged in ages from 16 to 35 (yes, a few of our students were actually older than we were).
We arrived in Malawi in July of 1986 and spend the first months of our time there traveling the country.
Our first experience with gems in Malawi occurred in the capital city of Lilongwe where were approached by street vendor with some tourmaline and aquamarine for sale. Most of this material was heavily parcel worn and had surely been offered for sale for many month. We purchases a little and kept a watch for more.
Our next experience with gem rough occurred when we had settled into our positions in Embangweni. A man came to our door offering black tourmaline and some red garnet.
We spent the next six months purchasing little bits of rough here and there. It was not until we were in the northern city of Mzuzu and we saw a sign for a gem mining seminar that we met someone purchasing gem rough commercially. Don Thompson, a rough dealers out of San Diego and his wife had relocated temporarily to Malawi to develop a gem business. He looked at the rough I had purchased already and declared most of it worthless. He show us how to examine rough for inclusions which went a long way to improving our purchases.
During the next year and a half we acquired what we could afford in the way of gem rough. The more we showed interest in rough gems the more miners sprang up and brought us the product of their labor. This was evident one day when we returned to our home for lunch to fine 18 miners sitting by our door hoping to sell what they had found.
One of the interesting findings of our time in Malawi was that we found that the miners did not know what we would be doing with the rough gems we were purchasing. As a result I send a parcel of rough to Thailand and had it cut and the finished gems returned to us to show them. Most expressed amazement as they though we were melting them down.
Some of our best purchases were made during our last three months in Malawi.
One day we were approached by one of the miners who regularly visited us with some exception aquamarine rough. He informed us that it came from a new mine. We expressed interest in seeing the mine but had reservations going to it as our visas did not permit us to do so. He informed us that the mine was remote and that he would send a boy to guide us to it the following Saturday. Sure enough a young boy arrived at our door that Saturday morning and proceeded to guide us deep into the bush where we came upon a massive pegmatite deposit containing aquamarine. We were able to search a little on our own and found some gem grade material.
We departed from Malawi in July of 1988 and have not returned since even though we feel the gem potential of this African nation has still to be tapped. We do hope to return one day and see if some of this unrealized potential has eventually been mined.
Do You Buy Gems?
Although the answer to this questions seems obvious to most people it is probably one of the most frequently asked questions at shows and over the internet.
Yes, it would be nice if all the gems we offer came to us for free either by cutting them (we would still have to purchase the rough) or by some magical means where an exchange of money does not take place.
We estimate that over 95% of the gems which we offer we have purchased from an outside source. We have been in business for twenty six years and during that time we have spent many hours contacting various sources around the world either by direct contact at shows, email contacts, or as during our early days via snail mail. When we lived in Africa our only means of contact was by snail mail and with a lack of other things to do spent many of our evenings typing out letters of inquiry to various sources.
During all these years we have established probably fewer than a dozen sources that we can depend on to offer us gems at prices which we feel we can offer at competitive prices. These gems represent most of what is available in the world such that if we receive a request for something we usually know where to obtain it.
Now this presents a dilemma that people who want to sell us gems do not understand.
Now this presents a dilemma that people who want to sell us gems do not understand.
Now this presents a dilemma that people who want to sell us gems do not understand.
If someone tries to sell us some gems we have to look at it in several ways.
First of all do we need what is being offered?
Say for example someone wants to sell us ten 8x6 mm amethysts of medium color. This is what we would consider commercial goods. There are a lot of sources out there that will sell us such gems and generally we have an idea just how much we would have to pay for them should we need some. In order to purchase the amethysts they would have to be priced at an incredibly low price in order to be attractive.
Second, can we expect to sell the gems being offered in a reasonable amount of time?
Often when we are purchasing a collection we must evaluate how quickly we can recover the money we are spending and then make a profit.
A few Summers ago we were offered a collection of some very fine gems. The price for the collection was such that we felt we could recover what we paid within six months and then with what remained make a profit over time. There were also a few things in the collection that we did not mind keeping around. We purchased the collection and within six months recovered the money we paid, however, even though this purchase was made almost three years ago we still have some of the collection in our inventory and occasionally sell a gem from what remains.
Third, what is the quality of what we are being offered?
Many years ago we were approached at a show to assist in identifying gems that a person had purchased. It turned out that they had purchased 50 carats of gems over the internet for $16.95. Being courteous we took a look and during the course of the next few hours when we had time we were able to identify most of the gems in the parcel, however, these gems were at best what would be considered rejects. Many of the gems were what we call "parcel worn". That is they had been handled in parcels for so long that their contact with each other had abraded them. Other gems in the parcel were cut by apprentice facetors who were learning how to cut on low quality, included rough of little value and in general were very poorly cut.
The person who owned these gems offered any that we were interested in for sale, however, there were none there that offered any value to us and we declined their offer.
Finally, are what we are being offered something we do not mind having in our inventory at the price we have to pay?
What a dealer has in inventory will determine what that dealer's prospective customers will be.
We hope to evolve into a dealer who deals just in high end, expensive gems but that takes time, however, if one even wants to achieve that status he or she must have high end gems in their inventory to attract high end customers. We have purchased some high end gems for our inventory over the years with that in mind and still have some of them in stock, but as is said "You can't sell what you do not have" so when such gems are offered at a good price we will purchase them.
Do you cut all of your gems?
This question is frequently asked at shows and although we would certainly like to sell just gems that John has cut it would be nearly impossible to do so. We do believe that because of John's gem cutting interest that we select gems to offer that are usually well cut by someone else to offer on our website, in our newsletter, and at shows.
The difficulty in offering only gems that John has cut arises in the time involved in the process.
On average it takes approximately 3 hours to cut a gem from start to finish. An average newsletter lists approximately 100 gems. If the average time to cut a gem is three hours the 100 gem represents 300 hours of work in a month. This would represent about one half of the time in a month which would not leave much time for other activities (Yes, we do have a life outside of gems).
The other factor that needs to be considered is that we often offer gems for sale for as little as $5. If John were to have cut that gem and it took him 3 hours his gross wage for the effort would be about $1.66 per hour. Back during the 1960's John's first job paid $1.60/hour but since then the economy has changed and things cost much more (John's first job was pumping gasoline that cost 31.9 cents/gallon!). Also the $1.66/hour also includes the cost of the rough gem and equipment and supplies so his net wage would be even less.
We often joke with our overseas sources who run cutting factories that when times are tough we will be moving closer to their cutting factory in order that we can work for them. Both of us usually get a good laugh out of the suggestion as their cutters make more than $1.66/hours these days but certainly not what is necessary to partake in gem cutting in the United States today.
Do you conduct field trips?
We have in the past announced when we would be going on a trip to collect rough gems and minerals and invited our customers along. The vast majority of people who have joined us are gemaholics much like us who find a weekend afternoon digging for gems much more desirable than watching professional sports (or in John's case working around the house). When the weather is good it is time to head for collecting locations and we still invite others to join us.
Our Gem Fest in the past included a trip to our peridot claim located about 25 miles from our home in Salida where we crawled on our hands and knees and picked up the grains of loose peridot that could be found on the surface. Since 2011 was our last year for Gem Fest we still invite people to join us when we go to our claim and enjoy the search for pieces of peridot that are large enough to facet.
We currently own or have an interest in three gemstone claims. The peridot claim mentioned above, a newly acquired topaz claim in the Tarryall Mountains, and a sunstone claim near Plush, Oregon. These claims are open to casual collecting to our friends and customers who collect responsibly without major disruption to the surface. If we know in advance of your interest we may even join you on our claim and assist with your search.
We also announce major trips to collect well in advance.
Each May, John and friends meet at the sunstone claim for assessment work as well as digging for gems. Traveling to and from the sunstone mines includes stops at Clear Lake, Utah for labradorite and possibly Grand Junction, Colorado for barite. We also have tentative plans to visit the quartz mines near Hallelujah Junction, Nevada to do some gem mining.
During July we make an annual pilgrimage to Montana for digging at Crystal Park and some sapphire mining at the Gem Mountain Mine. We are looking to add some additional locations to this trip in the future.
In September we hope to return to the sunstone mines and dig at both our claim and at the Dust Devil Mine where we have been most welcomed in the past. There is lots to do each year and we usually run out of time long before we run out of interest in collecting gems.
We have received requests to keep October's new article on appraisals available for awhile. It appears below.
Appraised Value
Unfortunately at the recent Denver Show we were approached by more people wanting to sell gems than wanted to purchase them. This trend has been occurring more and more frequently during the past three years and in all likelihood will not subside anytime soon.
Most commonly the price these people were asking was based on some form of retail appraisal and often they were hoping to sell their gems at retail prices or more.
There are many types of appraisals and the value of the items being appraised can vary dramatically depending on what type is represented. We will try to explain each one and hope that it clears things up for those considering selling their gems or jewelry.
The first type of appraisal we refer to as an "Issuing Seller Appraisal" or "Inhouse Appraisal". These are the appraisals often referred to by TV gem channels to get the purchaser to think they are getting a real bargain. The values stated in these appraisals are often highly inflated far above what one would pay for at normal retail jewelers. We recall one such channel a few years ago selling 2 to 9 carat spessartite garnets of fair cutting and quality offering the gems at $350/carat and telling the viewers that they were appraised at $1,800 to $2,500/carat. They failed to tell the viewer that these appraisals were conducted in house and that no independent appraiser would either agree or give a similar value to the gems. These "fake" appraisals are often used to convince the potential buyer that they are a great "investment". When you hear such claims on a TV gem network we would recommend that you change the channel quickly or get a good laugh from their false claims
The next type of appraisal is a "Retail Appraisal" or "Retail Replacement Appraisal". This type of appraisal is more realistic in that it will more accurately reflect how much it would cost to replace the item described within today's market. This type of appraisal does not necessarily mean that should you experience a loss or theft you will receive the retail value in cash given in the appraisal. It does mean that an effort will be made to replace with like kind and quality costing up to that amount. One of our earliest experiences in the jewelry and gem world was working at a wholesale jeweler that worked closely with insurance companies and would often replace a lost or stolen items for around half of the retail value. This often created hard feelings around Christmas when someone would "lose" an item and come into the store wanting to be cashed out for the full retail value. Fortunately we left that up to the insurance company but had many nasty encounters with those who thought we were cheating them.
The next type of appraisal would be a "Wholesale Appraisal". This type of appraisal would assure the replacement of a lost item but would not carry the high value of a retail appraisal. Most home owner's insurance policies have riders for items that exceed policy limits usually $500 to $1,500 in cumulative value. If you have total jewelry valued above this amount you would purchase a rider that would insure an item above these limits. Such riders would cost approximately 1% per year. So for a $5,000 engagement ring one would pay an additional $50 per year to insure it. A wholesale appraisal would value the same item around $2,500 and reduce the yearly rider fee to $25. One can see that if a person owns a lot of jewelry that the riders can become quite expensive and such an appraisal can greatly reduce that cost. Most cities have wholesale jewelers who work closely with insurance companies that will replace lost or stolen jewelry at wholesale appraised amounts.
Another type of appraisal would be an "Estate Appraisal" where the value is established to allow for the distribution of someone's estate after they have passed away. The value stated in this type of appraisal is often 1/3 or less of retail value to reflect similar reductions in value of other items within the estate may have experienced.
Another type of appraisal would be a "Cash Value Appraisal" or "Liquidation Appraisal". The value expressed in this type of appraisal would reflect what could be receive for the item if one wanted to sell it quickly or liquidate it. This value is often 1/5 or less of retail value. If the item is in great condition or of a particularly valuable gem it could be higher in that the item could be resold quickly. The value indicated in this type of appraisal reflects what most jewelers would pay for the item on the spot.
The next type of appraisal would be a "Scrap Appraisal". The value indicated in this appraisal would be an indication of what the metal and gems are worth in the current market. Deductions may occur such as a 10% reduction below spot prices for gold and in all likelihood a 50% reduction of the value of diamonds below wholesale prices.
The worse type of appraisal would be a "Pawn Appraisal". This type of appraisal lists the value a pawn shop would assign to your jewelry. This would be well below scrap value because the shop owner would offer to buy it at a price he or she knows they can at least scrap it out at the still make money. Because pawn shops are the easiest place to sell jewelry they can prey upon those people coming in the door that have no other outlet to sell their jewelry quickly.
There are many other factors that will affect what you can sell your jewelry or gems for. We recall many years ago when we operated a jewelry store a couple came into the store and asked us if we would like to purchase an imperial topaz ring. We estimated the gem to be at least 15 carats in size. At the time we had $900 in our bank account and offered all of it for the ring. The couple obviously offended by our offer left never to be seen in our store again and surely feeling we tried to cheat them but had we offered money we did not have and they accepted we would have looked foolish.
An additional factor that may affect the selling price of a gem would be the current inventory holdings of the buyer. If someone was to offer to sell a fine two carat tsavorite garnet at a great price and the buyer did not have one in stock he or she might be inclined to pay slightly more for it. If they have several such gems in inventory and have not sold one in awhile they would most likely offer quite a bit less.
More recently with the rapidly changing price of gold and silver the percentage of daily spot price for gold or silver that may be offer to purchase such metal may be less than if the price had been stable for several months.
Finally current trends may affect the appraised value of an item. The popularity of tanzanite may cause a buyer to pay more for it and thus its cash appraisal value would be higher than say for a gem such as garnet or amethyst which right now experience minimal demand.
Keep this article in mind or make a copy of it so that you can refer to it should you decide to sell some of your jewelry or gems in the future. It should at least give you an idea of what to expect and open you to some options as to how to sell your items.
A poem By Donna Rhoads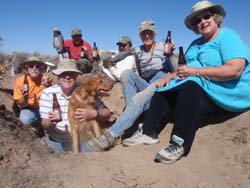 We drove, we dug, we played & stayed at many cool places this year.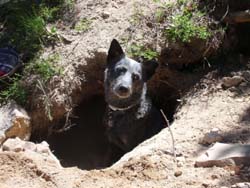 We hunted, we found, we praised and appraised many gems that abound on this earth.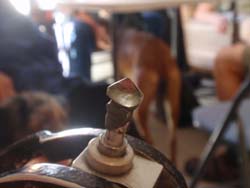 We studied, we cut, some failed, some sailed into new homes and collections around.
We danced, we laughed, we shared in the lives and hearts of our friends.